What to eat in the Riviera Maya: From Tacos to Fine Dining
Looking for what to eat in the Riviera Maya? Is this your first vacation in the Mexican Caribbean or your umpteenth return trip to paradise? What are the best things to eat in the Riviera Maya and the dishes you just can't miss? Get ready for a mouthwatering adventure, let's go!
Food in the Riviera Maya: Come for the beach, stay for the exceptional foodie experiences
The best food in the Riviera Maya is made with the freshest local ingredients from the sea and the jungle. A beach vacation in the Riviera Maya is an opportunity to savor the flavors of traditional Mayan food from the Yucatan peninsula. And wow, once you get a taste of the famous cochinita pibil, tikin xic fish, and the handmade tortillas, you will want to return again and again.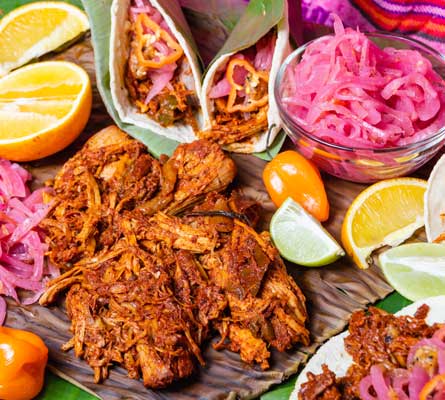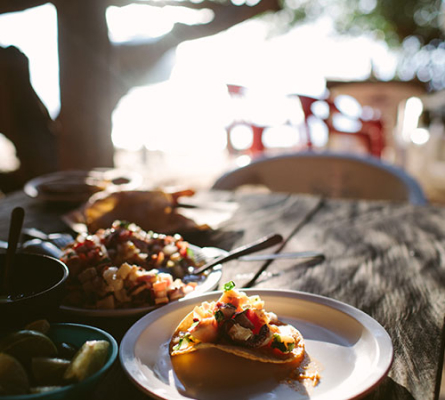 You'll find traditional Mexican food in the Riviera Maya from all over the whole country of Mexico too. The cuisine of Mexico is designated an Intangible Cultural Heritage of Humanity by UNESCO, it's just that unique and delicious! Cancun and the Riviera Maya was built by hands of people from all over the country of Mexico and they brought all their traditional dishes with them. The authentic Mexican food in the Riviera Maya is a mix of cultures and flavors, a true foodie experience. "Must try" dishes include the mole of Puebla, the pre-hispanic pozole, and a sinfully delicious tres leches cake for dessert. Vegetarians must try the incredible flavors of the huitlacoche and the very Mexican nopal cactus delight.
Where to eat in the Riviera Maya? From Puerto Morelos to Tulum, the restaurants of the Riviera Maya are out of this world
Incredible restaurants are abundant, and choosing what to eat in the Riviera maya is easy. From Chamico's on the rustic beach of Punta Allen to the chic fine dining experience of Casa del Agua in Playa del Carmen and everything in between. Enter the magical cave of the Alux Restaurant in Playa del Carmen or enjoy a gourmet dinner and an extraordinary show at the Joya Cirque du Soleil extravaganza. .
When you stay at a Riviera Maya resort like The Royal Haciendas, you'll be sure to enjoy incredible dining experiences in international cuisine and all the local favorites. Contact Royal Reservations TODAY and ask us about our favorite food in the Riviera Maya as you reserve an extraordinary beach vacation in paradise!
Other articles