Five Iconic Dishes that Represent Mexico: What to Eat in Cancun
"What to eat in Cancun" is the question on all travelers' minds when they are researching their Cancun vacation plans. Foodies LOVE Cancun for its wide range of restaurants for all tastes and budgets, plus the "culinary mosaic" of Mexico found in this exciting destination. So, what to eat in Cancun? Here are five iconic dishes that represent Mexico that you must try on your next Cancun vacation.
Tacos are not just for Tuesdays: The Best Tacos in Cancun
Tacos are the number one iconic food of Mexico; everyone worldwide loves the mighty taco. Handmade tortillas, grilled meats and vegetables, and various salsas from mild to wild, there are so many kinds of tacos to try that you will have to move to Mexico to try them all. The best tacos in Cancun are found in the Royal Resorts restaurants and hidden corners with plastic chairs and no name; we'll share those secrets when you book with Royal Reservations.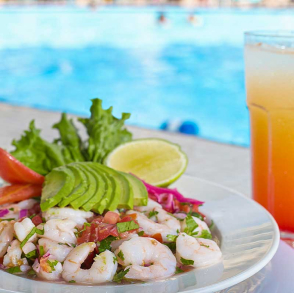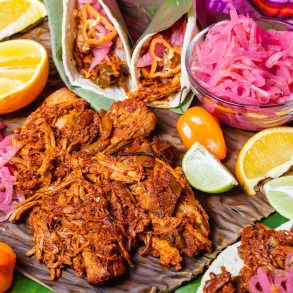 Ceviche and Cocktails: The Bounty of the Ocean with the Freshest Seafood in Cancun
A fresh seafood ceviche is served cold with fish, shrimp, octopus, and other ocean treat in a lemony, onion, and tomato blend of divine flavors. If you like it spicy, ask for the "aguachile," a variation on ceviche that will leave your tongue tingling. Mexican seafood cocktails come in a tomato sauce with a dash of spice, avocado, onions, cilantro, and a lot of flavor.
Cochinita Pibil: The Addictive Taste of Yucatan
If you have ever tried "cochinita pibil," you know exactly how addictive it can be, one taste, and you'll want more and more. Succulent seasoned pork roasted in an underground pit overnight served in tacos or tortas with pickled onions, habanero salsa optional but recommended.
Iconic Dishes of Mexico: Tacos al Pastor from Mexico City
"Tacos al pastor" is a treat that comes from the streets of Mexico City. The "trompo" of pork looks a lot like its Greek cousin, the gyro, and the cutting of the meat and the flick of a small piece of pineapple by the chef is a show in itself. Pile on the onions and cilantro and your favorite green or red salsa for an explosion of flavor.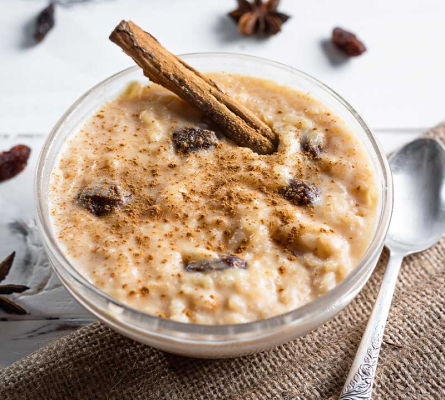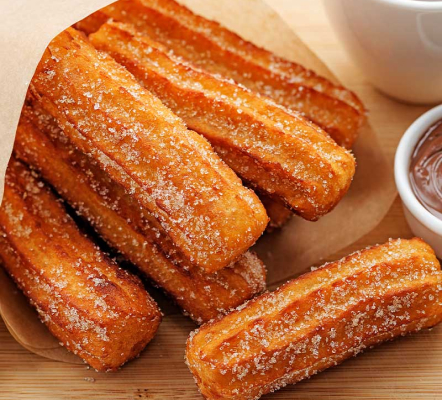 Authentic Mexican Desserts: We Can't Name Just One, Sorry Not Sorry
The most iconic Mexican dessert is the famous "flan," a creamy custard dessert topped with caramel, a staple in kitchens throughout the country. Of course, we cannot forget to include churros, arroz con leche, or tres leches cake; these sweet legends of Mexican cuisine must be tasted by everyone visiting Cancun!
What is your favorite Mexican dish? Are you ready to try them all? Contact us today at Royal Reservations to book your Cancun vacation with all the flavors of Mexico!
Other articles