The Best Restaurants in Cancun: Breakfast, Lunch, and Dinner in Paradise
What are the best restaurants in Cancun? What are the most popular restaurants in Cancun? Some may think these questions are the same, but "the best restaurants" in Cancun are often off-the-beaten-path hidden gems that don't make the fancy lists. The best restaurant in Cancun is where you have a delicious meal, attentive service, and a great vibe, which will be different for absolutely everyone! There is something for absolutely every palate and budget with hundreds of Cancun restaurants to choose from.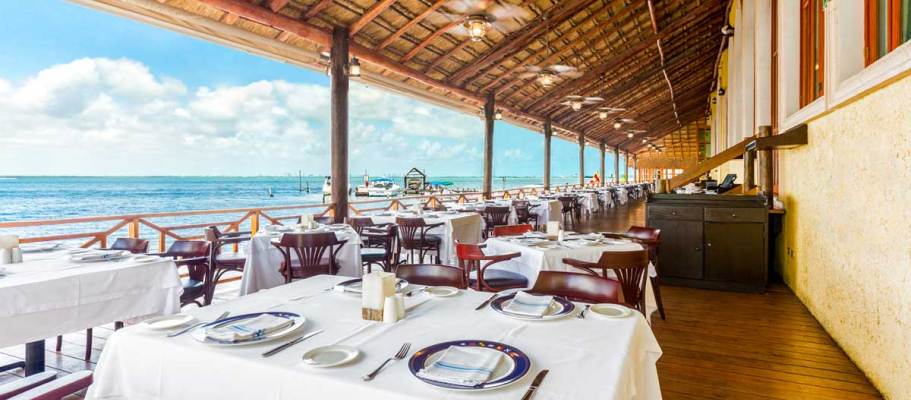 The Best Restaurants in Cancun for Breakfast
Your Cancun luxury resort will go all out for breakfast, and most travelers don't leave the lodge before digging into the buffet or getting creative at the omelet station. Cancun resort breakfasts are notoriously DIVINE, be sure to enjoy one day of room service breakfast in bed for an indulgent treat. Sunday brunch at Captain's Cove is a tradition for Cancun travelers; soak in the views of the lagoon with a delicious buffet.
The best restaurants in Cancun for breakfast outside the hotel zone are in Market 23 downtown. This is a cultural excursion to where the locals eat in Cancun, and you'll find a taste of Mexico at the variety of simple restaurants with dishes like cochinita pibil, panuchos, sopes, tamales, "huevos a la mexicana" and more. This is where you'll find the freshest ingredients in the expert hands of cooks that have learned from years of tradition. With the trip downtown!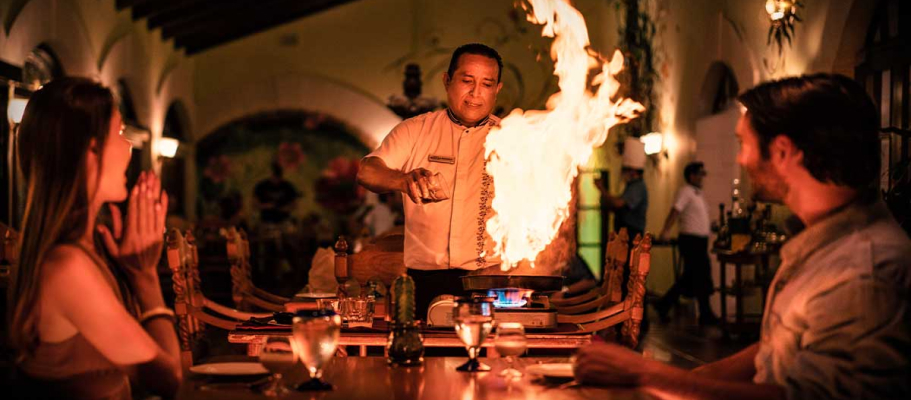 Midday feast: The Best Restaurants in Cancun for Lunch
Lunch in Mexico is traditionally the most critical meal, served around 2 pm. Cancun resort restaurants have lunch menus that will help you refuel for an afternoon of fun in the sun with typical dishes like tacos and tortas (Mexican sandwiches) and ceviches and cocktails of the freshest fish and seafood. In the hotel zone of Cancun, you'll find a tonne of great options for lunch with a view on the lagoon-like El Fish Fritanga, a fave for locals with super seafood and a laid-back vibe.
Where to go for dinner in Cancun? We need more time to try all the Cancun restaurants!
A one-week vacation is never enough to try all the incredible foods of Mexico and fantastic restaurants in Cancun. Even trying all the tremendous Royal Resorts restaurants will require a return visit or two. The best restaurant in Cancun for dinner (in our humble opinion) is the Hacienda Sisal, with a long history of providing authentic Mexican cuisine, warm and welcoming service, and dynamic entertainment.
Visit the luxury "food court" at Puerto Cancun and savor a taste of Mexico and the world. This is the hippest new place to hang out for dinner, a stroll around the marina, and enjoy creative cocktails and canapes into the evening
Does your mouth water at the thought of eating at the best restaurants in Cancun with fresh ingredients, traditional flavors, and spectacular views? Book now at Royal Reservations today, and let us help you plan your foodie adventure in Cancun!
Other articles