Luxury family vacations in Cancun: Creating Traditions and Making Memories
Luxury family vacations in Cancun bring you and your loved ones together to relax, enjoy tropical adventures and create traditions and magical memories. The city of Cancun is relatively "young," born in the 1970s. Still, the destination has become a place to celebrate family vacations, with guests returning year after year to their favorite Cancun hotels. It's "tradition!"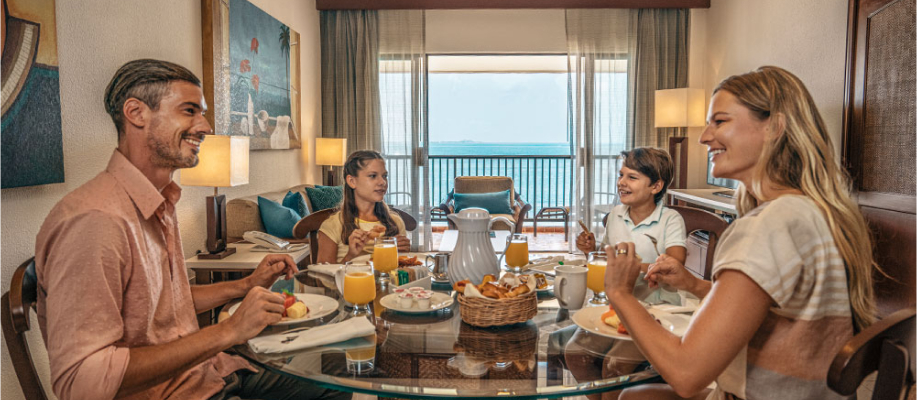 Royal Resorts Cancun: Welcome back to you luxurious home away from home
The Royal Resorts are pioneers in luxury family vacations in Cancun. One of the first hotels to break ground back in 1977 was the Royal Cancun, and it has been hosting guests ever since with warm, welcoming service. The concept of large "home away from home" suites was a massive success from the start. The Royal Resorts family has expanded to become a group of hotels known to travellers worldwide for extraordinary beach vacations.
You'll feel welcome and at home from the first time you meet the Royal Resorts staff. Some of our team have been with us for decades, creating our own Royal Resorts traditions and becoming part of our family and yours. Guests return repeatedly; those who took their first baby steps on the beach at the Royal Cancun are now teaching their little ones to build sandcastles under the same palm trees!
Luxury family vacations in Cancun: The Royal Resorts tradition continues to grow
The destination of Cancun has grown and evolved over the years, and so have the Royal Resorts. Royal Reservations is excited to bring you four hotels in Cancun with long traditions of making family vacation dreams come true. In addition to The Royal Cancun, you can choose from Royal Uno, The Royal Sands, and the Royal Islander hotels for your luxury family vacation, all with the signature service developed over years of experience and tradition.
While the service is traditional, the Royal Resorts facilities are luxurious and impeccably maintained with modern conveniences for today's traveller's demand. Jorge is still serving up the best margaritas in town as he did years ago at the bar of the Royal Cancun, but now you can live stream his smile back home. A little bit of the old, a little bit of the new, luxury family vacations in Cancun at the Royal Resorts can be your tradition too.
Contact Royal Reservations now to reserve your luxury family vacations in Cancun!
Other articles