Beachfront hotels in Cancun for the best ocean views in the Mexican Caribbean
Beachfront hotels in Cancun with swaying palms, white sandy beaches, and the most incredible views of the Mexican Caribbean Sea this is what vacation dreams are made of. The photos you see of Cancun are gorgeous, but they can never compare to feeling the sun on your skin and admiring the turquoise sea in person. The multi-hued blues will take your breath away every single time, and having an ocean view from your beachfront hotel in Cancun is simply an unforgettable experience.
Cancun sunrise is the brightest way to start your day
The beachfront hotels in Cancun are blessed each morning with extraordinary displays of light and colour. A Cancun sunrise cannot be missed, the first rays of the sun streaking over the horizon, then a burst of light as the day officially begins, turning pink skies to blue and waking you up with joy.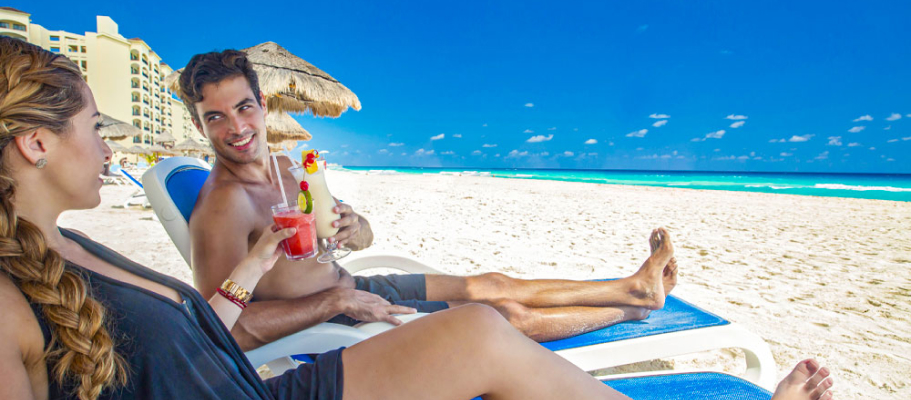 The Royal Resorts are the perfect beachfront hotel in Cancun for welcoming the new day from the comfort of your suite. The fully equipped kitchen lets you have coffee ready and brekkie on hand as you relax on the enormous terrace and enjoy peaceful moments of bliss as the day begins. You don't even need to get out of your jammies.
Chill out, or thrills, beachfront hotels in Cancun are the best for relaxation and exciting activities
The kids want ACTION; dad enjoys golf, and mom wants to relax; how can you please everyone on vacation? Choosing the Royal Resorts when booking your beachfront hotel in Cancun gives you the whole family beach vacation experience with options to keep everyone happy!
The littlest travelers will love the Royal Resorts kids clubs making friends with children from around the world. Mom and dad can rest easy knowing they are having a great time with the specially trained nannies and activities staff. Dad can hit the links at the challenging Cancun golf courses, and mom can let all her worries melt away at the Royal Sands Spa. Choose a day of doing nothing at all or fill your hours with Cancun activities and tours.
As the day comes to a close, kick back on your Royal Resorts terrace and watch the moon and stars glisten on the Mexican Caribbean sea. The sound of the waves and the feel of the ocean breeze will be the best lullaby of your life.
Reserve the best prices on beachfront hotels in Cancun with Royal Reservations!
Contact us NOW to book your dream vacation on the beachfront of Cancun at the Royal Resorts. We can't wait to get you started!
Other articles