Bachelorette Party in the Riviera Maya: Pre-wedding events that will leave everyone in love with Mexico
Pre-wedding events and bachelorette parties in the Riviera Maya are a tropical way to delight your guests and celebrate the end of your single days. A destination wedding means you have extra special time with your friends and family, make the best of it with some of these ideas.
Unite the tribes with pre-wedding events for the whole family
The best part of a destination wedding is the bonding you'll experience as two families join together. You'll likely meet relatives you've only known through social media or never even heard of if it's a big wedding! Planning pre-wedding events at your Riviera Maya hotel is a super fun way to unite the families.
Plan a little something every day to bring your guests together and mix it up! A little friendly competition with some beach volleyball, game night in the sports bar, and your typical bachelorette party games like bury the bride in the sand faster than the guys can bury the groom. You know, the usual. At a family resort like The Royal Haciendas, you'll be sure to have the kids involved too, sandcastle competitions are all the rage with the hip kids.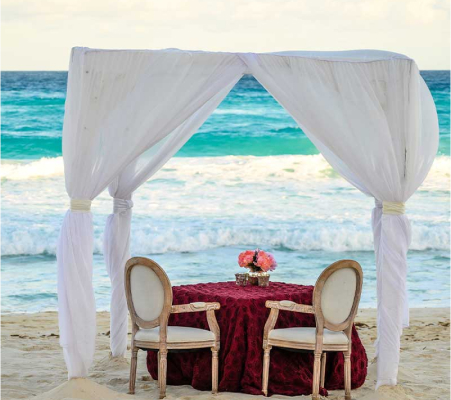 Just for the grown-ups: Riviera Maya bachelorette parties with a tequila twist
Looking for pre-wedding events with a more adult tone? How about a wine tasting of Mexican vineyards or a spa day for everyone to indulge in relaxation? Set sail on a private Riviera Maya yacht for a day of fun in the sun with your wedding party, matching bathing suits are optional but recommended.
Take the wedding party to the canals of Xoximilco for a fabulous night of gourmet Mexican cuisine, live musical serenades and flowing tequila! This is one of the best parties in the Riviera Maya, a "grown-up" evening of games, music and dancing. For a more sophisticated night out, bring your group to Joya: Cirque du Soleil Riviera Maya, a sensory experience of theater and foodie delights
Want more ideas for bachelorette parties in the Riviera Maya? Contact Royal Reservations now and we'll be happy to guide you in planning your own destination wedding in the Riviera Maya and share other secret tips for pre-wedding events!
Other articles