Hotels for weddings in the Riviera Maya: A week of amor, amor, amor
Why get married in Mexico? The hotels for weddings in the Riviera Maya are experts in bringing you not only the event of your dreams but you get a whole week of love and adventure instead of just one day. Amor, amor, amor, there's a lot to go around when you plan a destination wedding on the beach. What should you expect?
Pre-wedding Riviera Maya activities and fun for everyone
One of the best reasons to choose Riviera Maya hotels for your wedding is the adventure you will share BEFORE the big day! A vacation with your nearest and dearest in a luxurious resort like The Royal Haciendas? Heaven! Uniting the families in one beautiful place gives you the chance to get to know each other or renew old bonds with drinks by the pool, a volleyball game on the beach or a fantastic Riviera Maya excursion.
The hotels for weddings in the Riviera Maya are located in the spectacular region known as the Mexican Caribbean or the Yucatan Peninsula. This incredible destination has all the ocean activities you could wish for, world-class snorkeling and scuba, jet skis, kayaks or how about a private yacht in the Riviera Maya for your rehearsal dinner? Take your adventurous gang into the jungle for a zipline tour bachelor party while the girls indulge in a delicious bachelorette day at The Royal Haciendas Spa.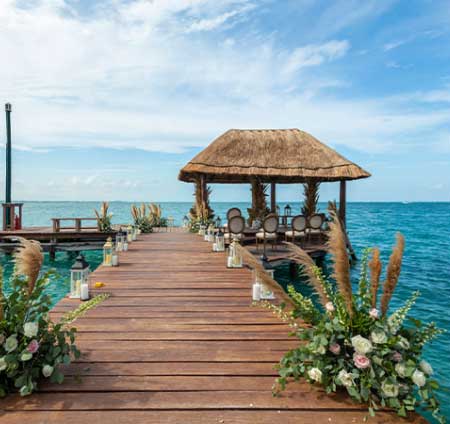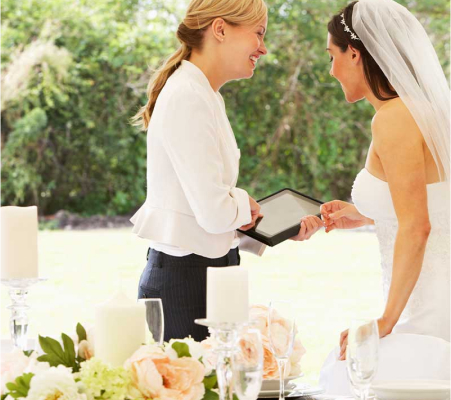 Hotels for weddings in the Riviera Maya: The worry-free way to plan a destination wedding
Reserve a Riviera Maya hotel for your wedding, you not only get a fabulous week of fun with your loved ones, but the guarantee of a worry-free wedding day working with the local planners. The Riviera Maya hotel wedding planners are experts in seeing that every detail is perfect and the entire event is full of love and amor.
The Riviera Maya wedding planners at The Royal Haciendas will ensure you have stunning floral arrangements, a beautiful setting for your vows and a great party for everyone. We love to see a wedding with a dash of Mexico, how about a churro cart and mariachis? The Royal Haciendas is a family resort, perfect for weddings, all suites and kids are welcome, a wonderful choice to plan your destination wedding in the Riviera Maya.
Contact Royal Reservations to ask us about hotels for weddings in the Riviera Maya. We have so many romantic ideas and we are delighted to help you start planning the beach wedding of your dreams!
Other articles