Dining in Puerto Morelos: Local Specialties to Delight Your Palate
If you are a foodie, you will be happy as a clam at full tide in Puerto Morelos! This peaceful little coastal town in the Riviera Maya is inhabited by numerous expert fishermen who supply octopus, shrimp, squid, lobster and various types of fish to the town's restaurants every morning. They get fresh ingredients every day!
In recent decades Puerto Morelos has become home to dozens of chefs and cooks from other parts of the world. These professionals have blended their knowledge with the ingredients, spices and culinary traditions of the Yucatan Peninsula, resulting in flavorful creations that you won't find anywhere else.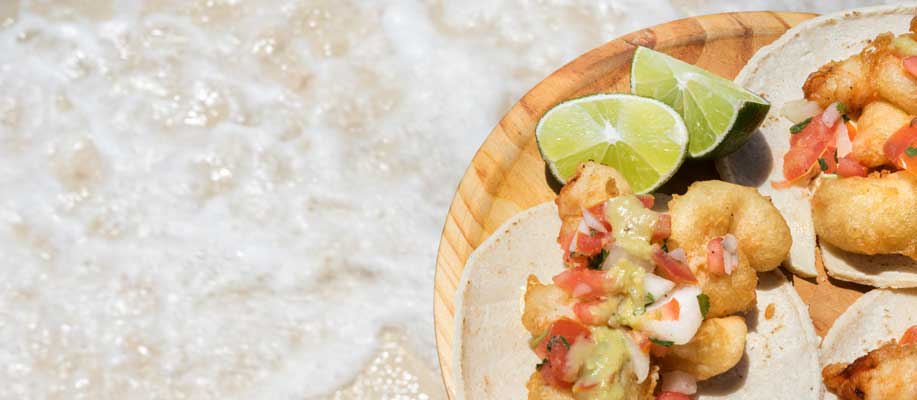 Start the day off with gourmet coffee and tasty chilaquiles
Around the main square of Puerto Morelos you will find a large number of cafes and restaurants that open early in the morning. Order your espresso or a cappuccino with freshly ground coffee beans from Chiapas or Veracruz. Accompany your drink with a plate of chopped fruit, waffles with hand-made ice cream, eggs Benedict or a shrimp burrito. Pay a visit to "Mangata" or "El Nicho" on any of your morning walks through Puerto Morelos.
Seafood dining in Puerto Morelos with a view
There is nothing like enjoying a good ceviche, nachos and guacamole with a bucket of ice cold beers in front of the sea. Puerto Morelos has several options where you can enjoy this tropical experience, eateries with outdoor seating and panoramic views of the Caribbean, such as "Los Pelicanos" and "La Playita".
Get a seat on the beach, dip your feet into the sand and savor a juicy grilled fish or octopus. The sound of the waves, the cool sea breeze and the blue sky will set the background for an afternoon filled with spectacular flavors.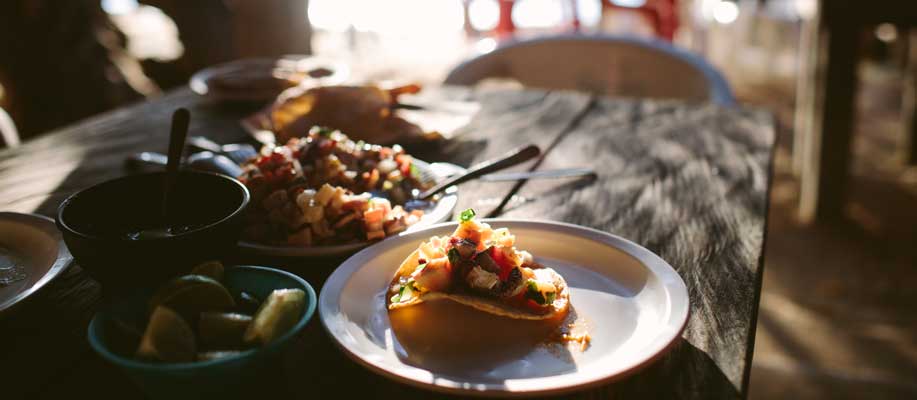 Intimate and laid back gourmet dining in Puerto Morelos
Unlike its "big city" cousins, Cancun and Playa del Carmen, Puerto Morelos is famous for offering a much cooler atmosphere without pretensions. This allows the chefs of the various restaurants in Puerto Morelos to focus on what is truly important: highlighting the natural flavors, aromas and textures of the meat, seafood and vegetables that fall into their hands to turn them into unforgettable dining experiences.
Be sure to taste the international specialties at "John Gray's Kitchen" or the Uruguayan-style meat cuts at "Al Chimichurri." For a sensual atmosphere and an excellent wine list, try "Tanino's".
The most comfortable rooms and the best dining in Puerto Morelos
Book your stay at Grand Residences Riviera Cancun so you won't have to leave your hotel to get tasty food. This resort has a couple of great Puerto Morelos restaurants, serving Mexican and international specialties in front of one of the most beautiful beaches in this destination. You will also find sandwiches and drinks in the pool bar, coffee and cocktails in the lobby bar, as well as 24-hour room service.
Other articles