Beach Wedding Packages: Getting Married in Cancun is an Ocean Breeze
Beach wedding packages at Cancun resorts are the ultimate dream for lovers looking to tie the knot in paradise. destination weddings in Cancun are more accessible than you think; what may seem like fantasy can be a reality with beach wedding packages that include ALL you need to celebrate your love. You worry about looking gorgeous and saying, "I do!" and we'll take care of the rest.
What's included in a Cancun beach wedding package? Personalized wedding plans at the Royal Resorts
Why choose a destination wedding in Cancun? The stunning wedding photos by the turquoise sea, the luxury of a vacation for you and your guests in one of the world's favorite destinations, and the professional services of the expert wedding planners at the Royal Resorts Cancun. Unite your family and friends from anywhere in the world with daily flights to the convenient Cancun International Airport.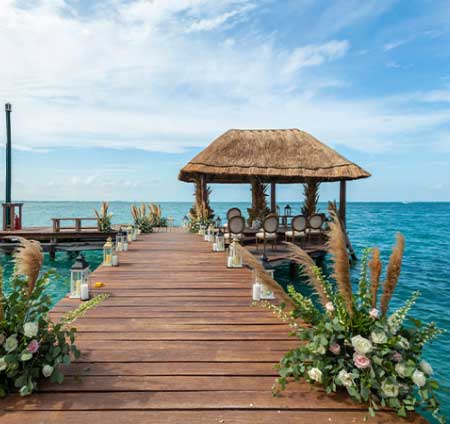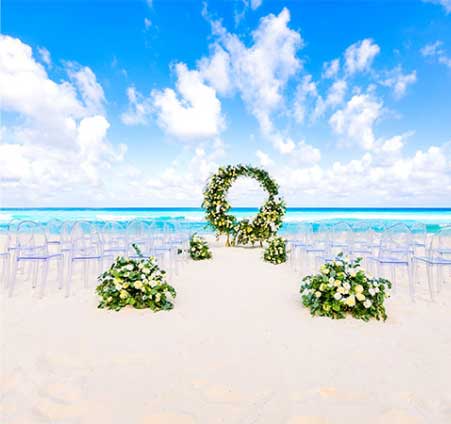 The best places to get married in Cancun are at the Royal Resorts, with years of experience planning the most romantic beach weddings. The facilities and accommodations are luxurious, family-friendly, and will make all your guests feel like they are right at home. Huge villas and suites with large terraces overlooking the sea, lush gardens, and glorious beaches, a Royal Resorts wedding is an ideal setting for your celebrations. We offer exciting excursions for pre-wedding activities and choices of gourmet restaurants to please the palate of your whole clan, and we are happy to accommodate your special requests.
One wedding per day guarantee: This is YOUR Cancun beach wedding package
A Royal Resorts wedding in Cancun gives you exclusivity you won't find at other resorts. Some Cancun hotels have multiple marriages, one after the other all day long. We guarantee that you will receive the full attention you deserve as we host only one wedding per day. You are the show's stars with the personalized service we are famous for. Our beach wedding packages are made to measure, and we have the best Cancun wedding vendors working with us. From flowers to cakes to the mariachi serenade, let us help you put together the perfect Cancun beach wedding packages that suit your love style and budget.
Ask us about our Cancun beach wedding packages today; we want to help you tie the knot in the Mexican Caribbean with worry-free planning and incredible prices!
Other articles