Visit The Best Mayan Ruins in the Riviera Maya
So you are coming on vacation to the Mexican Caribbean and want to visit the best Mayan ruins sites in the Riviera Maya. You came to the right blog post!
Indiana Jones-style vacations in Mexico
In this post we will tell you about the 5 most impressive Mayan ruins sites in the Riviera Maya. We will tell you exactly what makes these pre-Columbian cities special and what makes them worth the trip by road (or ferry) from your hotel.
1.- Tulum
Tulum is the perfect place to start your exploration of the Mayan world. In its heyday, this walled city was an active commercial port that had contact with other pre-Columbian cities in Central America and supplied products to other Mayan villages and towns located in the jungle.
In Tulum you will be able to capture incredible photos and videos, getting Mayan temples in the front with the Caribbean Sea in the background. Another plus of this archaeological site is that it is small, so you will go through it quickly.
Do you need more reasons to explore Tulum? With enough time, you can go down to the beach through a wooden staircase and take a dip in the sea, so do not forget to bring your swimsuit and keep a towel in your backpack.
2.- Coba
Coba is one of the largest Mayan cities on record. In its golden years it came to rival Chichen Itza for political influence. Two aspects that make the ancient city of Coba unique are that most of its temples and paths are lined with tall tropical trees and that you can explore those paths on foot or on a rental bicycle.
Do you want another reason to visit Coba? These ruins boast one of the tallest Mayan temples in the Yucatan Peninsula, which you can still climb! The Nohoch Mul temple is 138 feet tall and from its top offers a view of the jungle that will take your breath away.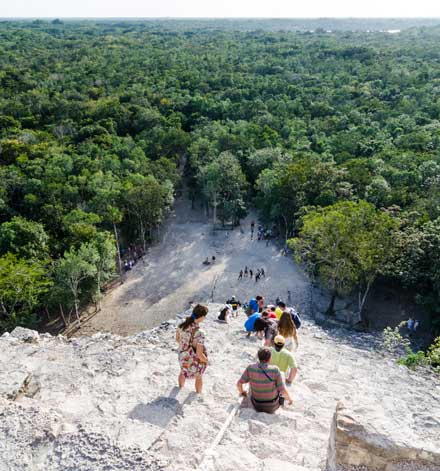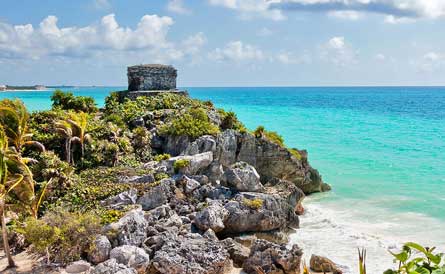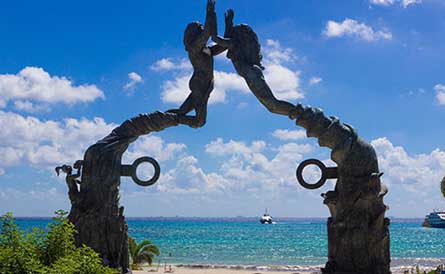 3.- San Gervasio
First, you have to get to Playa del Carmen. Then, take a ferry to cross to Cozumel island. Afterwards, rent a scooter or a car to drive along the transverse road of the island to the entrance of the archaeological site of San Gervasio, one of the best kept secrets of this beautiful Caribbean island.
One of the aspects that we like the most about San Gervasio is that it is not popular at all. Unlike other Mayan ruins, here you will not find large groups of people interrupting the tranquility of the jungle. Plus, your photos and videos will not have other travelers walking in front or in the background.
Interesting fact about San Gervasio: Since the times of the ancient Mayans, this city was the destination of countless pilgrimages. Entire families crossed the sea on a raft from what is now Xcaret and walked inland to the temple of the goddess Ixchel, located in the center of this settlement. They made this trip to implore the fertility of the land and women. So be careful what you wish for and what you say when you arrive at these Mayan ruins! Still to this day, you will find floral offerings and ceramic jars and pots at the foot of the temple of the goddess Ixchel.
Get your explorer hat and boots ready. You don't need a whip.
Now you know which are the best Mayan ruins sites in the Riviera Maya! Don't forget to bring eco-friendly insect repellent and sunscreen in your backpack, along with a hat and sunglasses.
Something else, remember to wear your swimsuit under light clothing, preferably cotton. Do not forget that near Tulum and San Gervasio there are spectacular beaches. Near Coba you will find beautiful cenotes (natural pools) where you can swim.
Best of all, you can visit each of these archaeological sites and their nearby tourist attractions on your own, or on organized tours that will pick you up and drop you off right at the lobby of your favorite Riviera Maya hotel, The Royal Haciendas. Book today!
Other articles