Visit the Puerto Morelos Beach Club: Fun in the Sun for the Whole Family
A visit to the Puerto Morelos beach club is the ideal way to leave all your worries behind and simply relax in a tropical paradise. The Mexican Caribbean sun on your skin, ocean breeze in your hair, cool cocktails, fresh seafood and the sound of the gentle waves, treat all your senses to a perfect Puerto Morelos day.
Things to Do in Puerto Morelos: Beach Clubs in the Riviera Maya
Finding a Puerto Morelos beach club is easy, head to the coast and look for the brightly colored umbrellas on the shore. All along the Puerto Morelos beach you'll find a range of beach clubs each with their own particular vibe and style. You'll find rustic palapas serving up cold beer and fresh fish, hip beach clubs with DJs and cocktails and upscale and luxurious beach clubs in some of the finest Puerto Morelos resorts for maximum pampering and relaxation.
The wide range of styles also means a wide range of prices, you may find a rustic beach club where you can rent chairs and an umbrella for 200 pesos or you could just STAY at a resort like The Grand Residences Riviera Cancun and have your all-inclusive beach club all day long! All the beach clubs have a few things in common, incredible views of turquoise waters, fantastic white sand beaches and an opportunity to enjoy a taste of the tropical life in the magical Mexican Caribbean.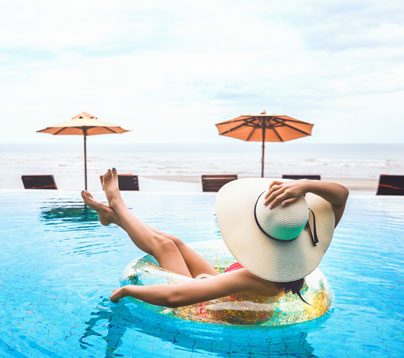 What to bring to a Puerto Morelos beach club
You don't need to bring much to enjoy a Puerto Morelos beach club! Bathing suit, towel and your appetite! Eco-friendly sunscreen is a must, the nearby reef is a delicate ecosystem and we feel strongly about protecting marine life. Hat, sunglasses and a readiness to relax and have a good time. Bring beach toys for your little ones and let them bury you in the sand, it's a tradition!
What to eat and drink at a Puerto Morelos beach club
Bring your appetite and get ready to quench your thirst, a Puerto Morelos beach club is THE place to try the local specialties that will leave your taste buds tingling. "Cocktail" is the word of the day, seafood cocktails first of all! The local seafood is fresh and delicious, try shrimp, octopus or fish cocktails or ceviches or just go for "mixto" for a taste of ALL the delicacies.
"Cocktails" of the beverage kind are cold and delicious, try a traditional margarita on the rocks with your favourite tequila or ask for the house speciality to sample something new. A refreshing "chelada" (beer on ice with lemon and salted rim) or "michelada" (spicy mix with beer) and faves among the local Puerto Morelos beach clubs!
Why not STAY at a luxury Puerto Morelos beach club and enjoy the best of paradise everyday?
Contact Royal Reservations TODAY and we'll let you in on the secrets of The Grand Residences Riviera Cancun, live the Puerto Morelos beach club experience for your whole vacation! Beachfront lifestyle, warm Mexican hospitality, luxurious accommodations and delicious cuisine, what more could you ask for?
Other articles