Best Hotels in Puerto Morelos: Why Choose a Beachfront Resort in Riviera Cancun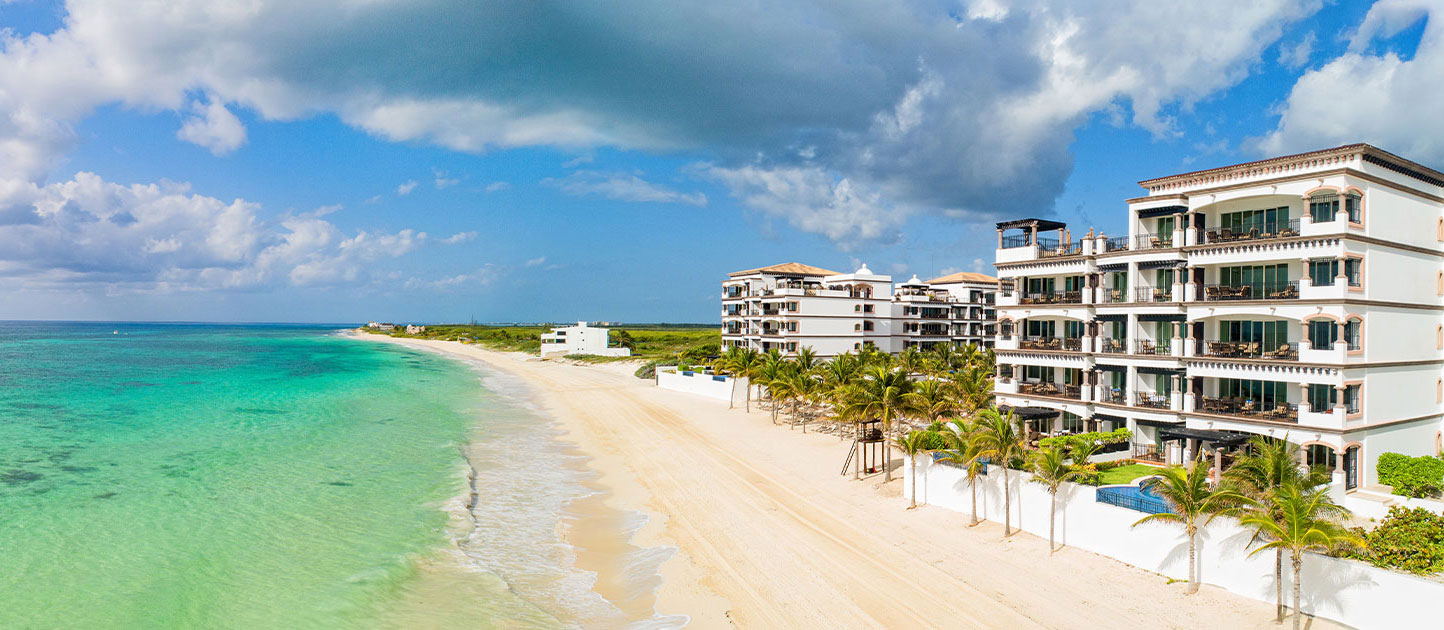 If you have not yet decided exactly where you want to spend your next vacation in the Mexican Caribbean, this blog post will definitely help you out. Keep on reading and we'll give you 5 good reasons why Puerto Morelos is your best option if you are planning a romantic getaway or a family sun and sand vacation in Mexico. We will also tell you which are the best hotels in Puerto Morelos!
Why stay in Puerto Morelos?
1. Its traditional atmosphere
A few decades ago, Puerto Morelos was a small and peaceful fishing village, with sandy streets where the most exciting thing that happened was the occasional soccer game of local children or a family party.
Over the years and the exponential development of its neighboring cities, Cancun and Playa del Carmen, tourism has changed the town. The rustic seafood beachfront restaurants were joined by gourmet cafes, international specialty restaurants, bars and beach clubs. The small inns of the town gave way to finer accommodations and eventually to the best hotels in Puerto Morelos where you can stay today.
Fortunately, Puerto Morelos continues to be a small city, with a quiet pace of life, without much traffic. On its coasts are the Caribbean Sea and its natural treasures; Surrounding the town there are large expanses of mangrove swamps and to the west there is an immense jungle where endless adventures await.
2. The beaches of Puerto Morelos and the Mesoamerican Reef System
Puerto Morelos has extensive beaches where both the waves and the depth of the sea are scarce. Ideal for families with young children or older adults! These conditions also favor the practice of kayaking, paddle boarding and windsurfing.
Just a few miles from the white sand beaches of this beautiful town is the Puerto Morelos National Reef Park, which is part of the Mesoamerican Reef System, the second most important barrier of its kind in the world. Here you can snorkel among corals, tropical fish, turtles and many more marine species.
3. The Cenotes Route
The eastern end of the Cenotes Route is located 2.5 miles from the center of Puerto Morelos, a paved road that goes into the jungle of the Mexican state of Quintana Roo to allow you to visit a large number of parks whose main attractions are natural pools called "cenotes". Many of these parks also offer ATV tours, horseback riding, zip lines and suspension bridges.
4. Its proximity to Cancun and Playa del Carmen
Puerto Morelos is located just halfway between two of the main tourist destinations in Mexico, Cancun (24 miles) and Playa del Carmen (22 miles).
Take advantage of Puerto Morelos location to visit the three small archaeological sites found in Cancun: El Rey, San Miguelito and El Meco. Also enjoy the beaches of the Hotel Zone of Cancun and its world famous nightclubs, such as Coco Bongo and Mandala.
In Playa del Carmen you will love walking along its 5ta Avenida, a 3 mile long pedestrian avenue with a large number of bars, cafes, restaurants, boutiques and handicraft stores. 5ta Avenida is the place to be for those who enjoy window shopping and people watching!
5. The best hotels in Puerto Morelos
If you come all the way down to the Mexican Caribbean you want your hotel to be as close to the sea as possible and as comfortable and fun as you and your family deserve.
You need spacious rooms, elegant and relaxed vibes, multiple activities for children, teens and adults, pools flanked by palm trees, as well as a spectacular beach. Of course you value good food and good wines, spirits and cocktails.
Not all hotels in Riviera Cancun meet these requirements, so we have put together the following list for you.
Top 5 hotels in Puerto Morelos:
Excellence Riviera Cancun
Margaritaville Island Reserve Riviera Cancun
Grand Residences Riviera Cancun
Sensira Resort & Spa Riviera Maya
Secrets Riviera Cancun Resort & Spa
Contact Royal Reservations today! Book one of the best hotels in Puerto Morelos and enjoy all the amazing locations and fun adventures that this destination has for you.
Other articles