Beach club in Puerto Morelos: Things to Do on Your Family Beach Vacation
We know you are counting the days to come to the sunny Mexican Caribbean with your family. You probably have a photograph of a beach club in Puerto Morelos as a background on your computer desktop and also that maybe your home office afternoons are a bit more pleasant when you accompany them with an ice cold beer or a margarita and some reggae.
Sadly, there is still no technology that allows you to effectively recreate the relaxation produced by the sound of the waves, the warm sea breeze and the rays of the sun caressing your skin. But hang in there! In Puerto Morelos you will find all those things and more in their natural state: Cool beach clubs with the best ambiance, nice music and cold drinks.
Maybe putting together your Caribbean outfit and planning what to do in Puerto Morelos helps you kill time until the day of your flight to Cancun?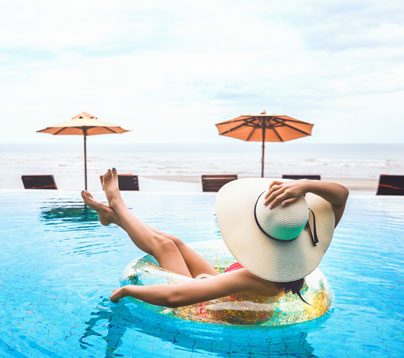 What is the best beach club in Puerto Morelos?
There is no single answer to this question. And that is because each beach club in Puerto Morelos has its own features and offers a distinctive ambiance, with food and drink options for every traveler's budget and style.
Here's our review of the 5 most popular beach clubs in Puerto Morelos. Visit them all on your vacation and choose your personal favorite!
1.- Day & Night Beach Club
This unpretentious Puerto Morelos beach club is reasonably priced and their staff is attentive. They have a great stretch of sand and the sea is beautiful. You can rent a palapa with beach chairs for the day and bring your own food and drinks. They serve good ceviche, cold beer and they even have some dessert options. The place is a little rustic and some may find it inconvenient that the restrooms are a couple of minutes walk from the beach club.
2.- Unico Beach
Unico is a restaurant and beach club in Puerto Morelos that in recent years has seen its popularity grow exponentially. It is precisely its growing fame that often confronts it with a large influx of tourists, which at times can be an operational challenge. Their food menu includes guacamole and sandwiches as well as grilled seafood. The place has a wide range of services: a pool, showers, dressing rooms, massages and sale of tours.
3.- My Paradise Beach Club
Tropical cocktails, cold beer, burgers and ceviche ... What else could you ask from a Puerto Morelos beach club? Oh yeah! A great view of the beach from your lounger, good service and an awesome mix of pop and rock music. A laid back ambiance and reasonable prices complete the Caribbean experience at My Paradise Beach Club. The place has a pool, restrooms and showers.
4.- Beach Club Ojo de Agua
A restaurant and beach club in Puerto Morelos simple and nice, with a beautiful beach, a chic atmosphere and clean facilities. In general, the service is good, although sometimes it has some inconsistencies, probably due to staff turnover (not all waiters can be incredible). Order a breaded or grilled fish fillet to accompany an ice cold artisan beer or a refreshing cocktail.
5.- RoMarley Beach House
Owned by Rohan Marley, son of legendary musician Bob Marley, this exclusive Puerto Morelos beach club offers a terrace with an infinity pool, private bali beds and a jaw breaking view of the beach. The place has a high-end restaurant, expert mixologists and a resident DJ. Try the jerk chicken, their grilled octopus and the cocktails with mezcal.
A hotel in Puerto Morelos with its own beach club, restaurant and bar?
You don't have to leave Grand Residences Riviera Cancun to enjoy the sun and the beach of Puerto Morelos, exquisite cocktails and the freshest seafood. Spend the day between your lounge chair on the beach and the pool or participate in the activities scheduled by the entertainment staff. If you are traveling with children, let them have an incredible time at the hotel's kids club. Contact Royal Reservations today!
Other articles